Discographer, pictured by Booker T.:
| | | | |
| --- | --- | --- | --- |
| | | | Monk in Stockholm 1961, photo by Robert Parent. |
---
World Bridge Federation
Above is a link to my record in the World Bridge Federation file, by which you can link
further to other records and information from WBF. According to its rules, master points
are reduced by 15% each year for ranking purposes. Once achieved titles are maintained.
You can click on any competition to see the result list, players of each team, etc.

I have enjoyed myself listing the number of titles of Swedish players, totally 67
(including some deceased persons), per October 29, 2012. Notable is that we have got 2
players in the World Grand Masters list, namely Peter Bertheau and Fredrik Nyström.
Also remarkable is that Ida Grönkvist has become World Master in the Women category
at the age of only 17 years.
2 World Grand Masters.
13 World Life Masters.
12 World International Masters.
2 World Masters.
7 World Life Masters.
11 World International Masters.
9 World Masters.
As you can see, the total sum of titles is 67. Yet the sum of players is 62, depending on
that 5 players have 2 titles each [Anders Morath, Sven-Olov Flodqvist and Hans Göthe
(WLM and SM), Sven Åke Bjerregård and Mats Nilsland (WIM and SM)].
Link to details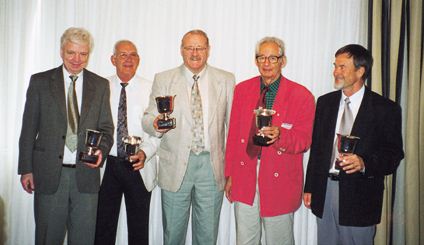 Olympic Senior Bronze Medallists 2000: Morath, Alfredsson, Ekberg, Hallén
and Backström. The 6:th member of the team, Göthe, was not present at the
prize-giving ceremony. Photo: Maria Grönkvist.


European Bridge League

Above is a link to the EBL home page. There you will find lists of titles by Swedish
players (from an earlier update, but much the same persons, as in the WBF lists):

11 European Grand Masters.
11 European Masters.
2 European Grand Masters.
14 European Masters.
As you can see, the total sum of titles is 48. Yet the sum of players is 43, depending on that 5 players
have 2 titles each [Sven-Olov Flodqvist, Anders Morath and Hans Göthe (EGM and Seniors EM), the
sisters Cecilia and Sandra Rimstedt (Women and Youth)].

This update per December 23, 2012 may be my last. It should be a duty for the Swedish Bridge Federation.




With Sven-Olov Flodqvist (wearing red tie) in our team, we hoped for a medal in the European Championships
&nbsp of 2001 at Tenerife, Spain. Sweden was also in the lead position during the first week, but was then to suffer
&nbsp the loss of Sven-Erik Berglund (to the right) who successfully had partnered SOF, as he regrettably had to leave
&nbsp before the finishing days. (Picture from 1977 when he was captaining the Swedish team that won the European
&nbsp Open Championships.) Sweden was to be surpassed by Poland and two French teams. Afterwards we enjoyed
&nbsp a very nice banquet, though I had to brush up my evening school Spanish, sitting next to the chairman of the
&nbsp arranging organization, commenting on the artistic shows.

&nbsp Flodqvist, nicknamed 'Tjolpe', also took part in our team in the Senior World Championships in Estoril 2005,
&nbsp where we weren't that successful, but still winning our match versus the champions to be, USA 1, featuring
&nbsp Bates-Stansby and Sontag-Weichsel. Better though in the subsequent World Transnational Open Teams
&nbsp Championships, where we finished as no 17 out of 134 teams and no 1 of the participating senior teams ...
&nbsp Leaving behind us Zia Mahmood's team of international stars as well as members of the US Aces and Bessis'
&nbsp French team in addition to all Swedish players except Björn Fallenius. You'll find all the details in a link above.

&nbsp Thus I had the pleasure to play in different championships from 1999 to 2005 with three of my fellow team
&nbsp mates from the first half of the 1960's, Berglund, Flodqvist and Göthe. The one missing member of that team
&nbsp was my old partner Sundelin, who was still fighting successfully for Sweden in the open championships.
&nbsp Also, in 2020, the first Swedish player to become inducted to the EBL Hall of Fame.

Some bridge links:

&nbsp In the beginning (In Swedish)

Gallery (In Swedish)

International masterpoints (In Swedish)

Early black & white pictures and my personal bibliography


---
Leif Jonsson's Hulte Nova wins the Swedish Championship for mares on June 29, 2015,
well assisted by her driver for the first time, the alert Torbjörn Jansson.
---